Click here to view the Deck Plan
*Certain suites may vary in size and configuration. Photos and diagrams represent typical arrangements. Call 1-800-345-3324 for more information.
ATLANTIDE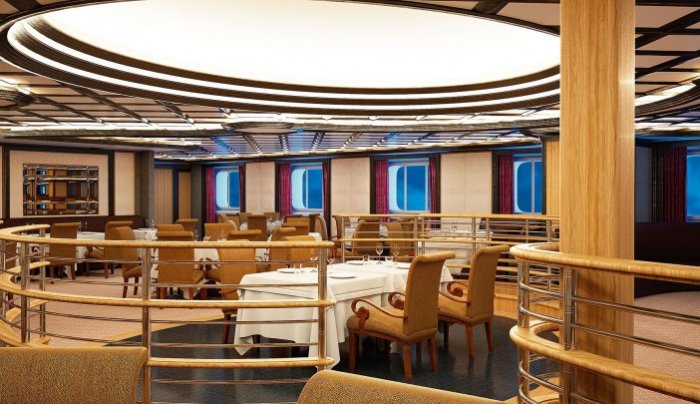 Instantly recalling images of the sea in all her watery majesty, the Atlantides are the seven nymph daughters of Atlas. Creative muses, known for their wisdom and beauty, the sisters were granted immortality in the form of stars and can be seen today in the constellation of Taurus.
Pivotal to the Silver Muse dining experience, this elegant bar and grill incorporates the best that the sea has to offer. Created to temper your taste buds, designer dishes such as royal crab, blue lobster and Verbena infused red snapper in a sea salt crust are showcased alongside the best steaks offshore.
LA TERAZZA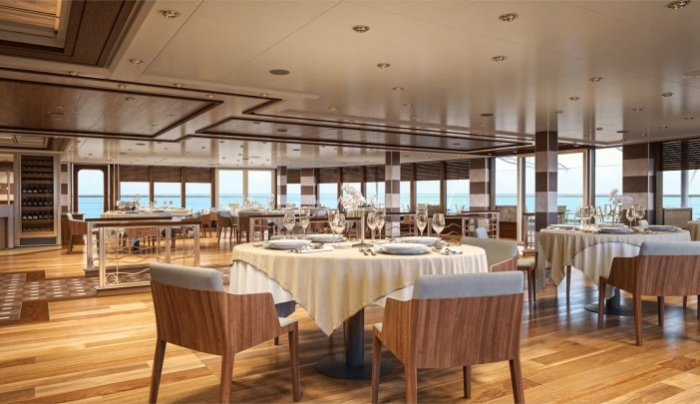 An iconic hallmark of Silversea dining, La Terrazza offers authentic recipes and the freshest ingredients from our distinctive Italian heritage. This is where antipasti, primi and secondi come together with passion and flair in a flavourful expression from corporate chef Alberto Colombo's imagination.
Together with our partnership with Slow Food, La Terrazza aboard Silver Muse offers innovative interactive food stations: an olive oil cellar, a mozzarella bar, a seafood station and of course a salumeria. The à la carte menu has also been extended to include the popular Sapori di Casa, traditional family-style Italian daily specials.
MADAME BY RELAIS & CHATEAUX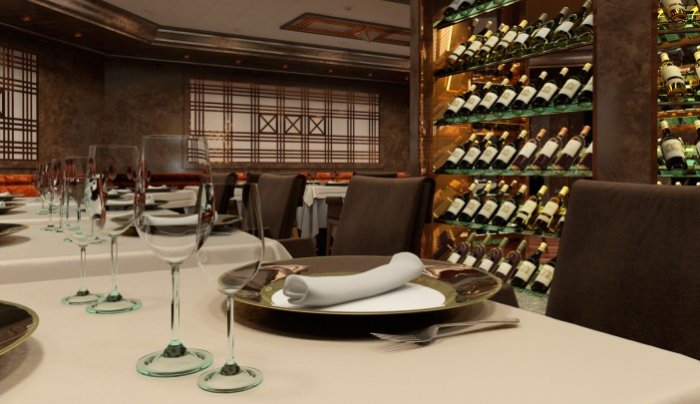 MaDame by Relais & Châteaux® features a bespoke menu by top chefs from the Relais & Châteaux team, and is the highest expression of excellence of French dining that Silver Muse has to offer. The ambience is one of chic contemporary style, with crisp white table linens and the impeccable white gloved service associated with Silversea.
The boutique hotel and gourmet restaurant guild Relais & Châteaux are unsurpassed in their belief in standards of hospitality, personalised service and outstanding cuisine. Rooted in these shared values, Silversea is proud of its privileged collaboration and its continued partnership for the pursuit of excellence.
INDOCHINE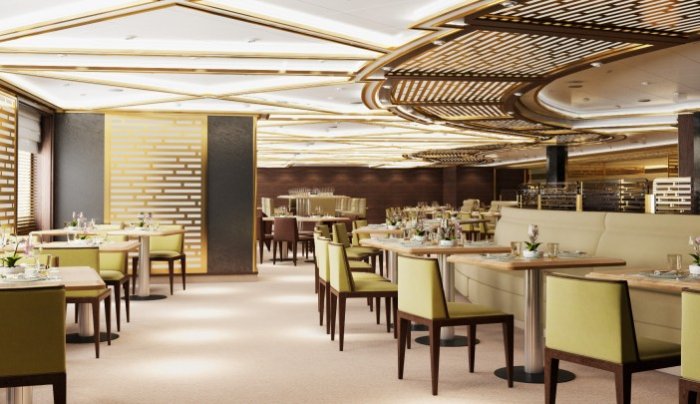 Evoking a sense of exotic mystery, the Asian-accented Indochine embarks you on an exquisite journey of culinary discovery. Unlock the hidden treasures of the spice markets of Mumbai, whet your appetite with the exoticism of Thailand and temper your taste buds with the cuisine of Vietnam. Elegant and exquisite dishes bursting with Asian essence awaken your gastronomic senses and immerse you in an expansive tapestry of the palate.
Savour the fusion of flavours of a vast continent that defies definition — in a stylish restaurant that pays homage to its delectable cuisine.
KABUKI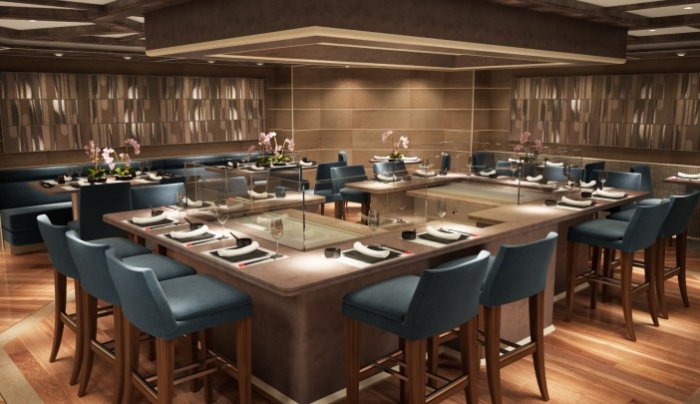 One of the most immediately recognisable characteristics of Japanese culture by its stunning costumes and elaborate make-up, the ancient art of kabuki theatre reflects a passion for tradition and performance.
Our reinterpretation of these values is clear. Guests at Kabuki are treated to a theatrical production of flavours, tastes and senses. Balanced menus have been inspired by the five elements of Japanese nutritional cuisine and respect the equilibrium of yin and yang. With teppanyaki available exclusively for evening diners, daytime menus feature a varied and balanced menu of sushi, sashimi and other raw Asian-inspired dishes.
REGINA MARGHERITA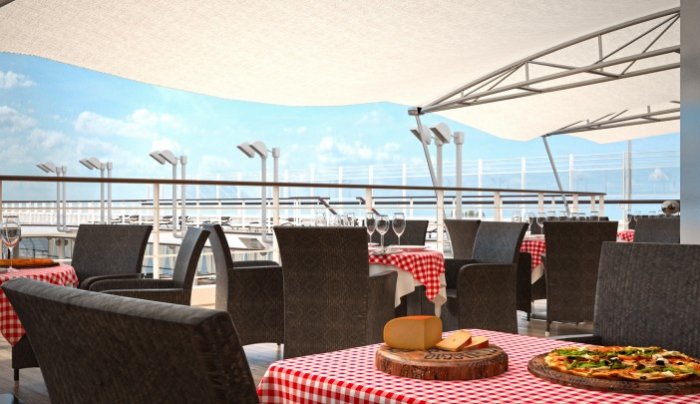 Reflecting Silversea's Italian heritage, this enormously popular queen captured the hearts and minds of Italians during the late 19th century and is the proud name-bearer of the most "Italian" of pizzas.
The simplicity of la Margherita is reflected in the relaxed dining style of the restaurant. Open all-day, Regina Margherita offers an extensive pizza menu baked in a custom built traditional oven. With its long opening hours (from morning to late-evening), the pool side open-air restaurant will be the go-to choice for families as well as those preferring to dine in casual atmosphere.
HOT ROCKS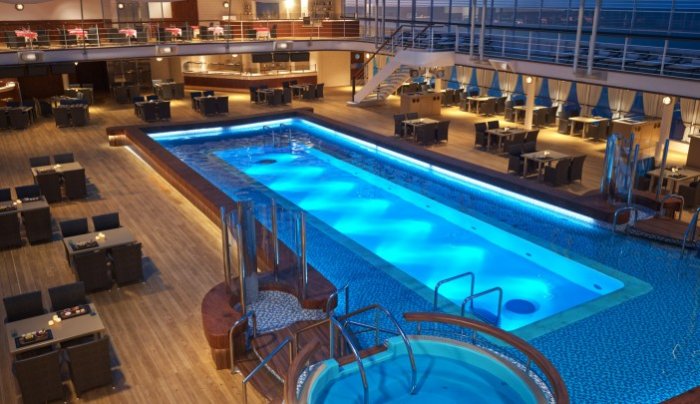 One of the healthiest cuisines to exist, Hot Rocks features lava stone cooking at its finest. Sourced from volcanic rock and placed in an oven to reach an optimum temperature of 400˚C, Hot Rocks invites guests to cook their food directly at their table. Place your meat, fish or vegetables on top of the grill stone or inside the soup bowl, and then simply cook to your very own taste. Every bite is cooked to perfection, time after time.
With the stone cooking available in the evenings only, Hot Rocks becomes a daytime rotisserie and gourmet salad and burger bar, offering build your own burgers from the best selections of meat.
SILVER NOTE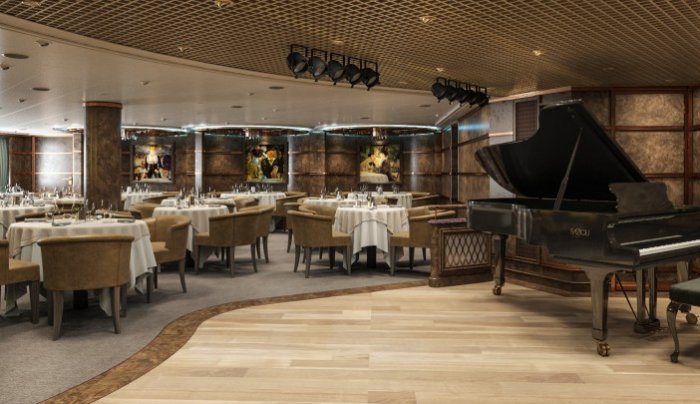 A sumptuous, intimate setting with a lively, joie de vivre ambience is the perfect place to dine, dance and dream the night away…
Small plate tapas-style dishes of mouth-watering international cuisine perfectly compliment the rich, exciting entertainment as the smooth sounds of jazz and blues gently caress your ears. A refined late evening menu perfectly showcases the panache and style of Silver Muse's plentiful dining options, so expect multisensory fireworks as you swing and sway effortlessly across the dance floor as Silver Muse gracefully takes you to your next destination.
POOL DECK & JACUZZI AREA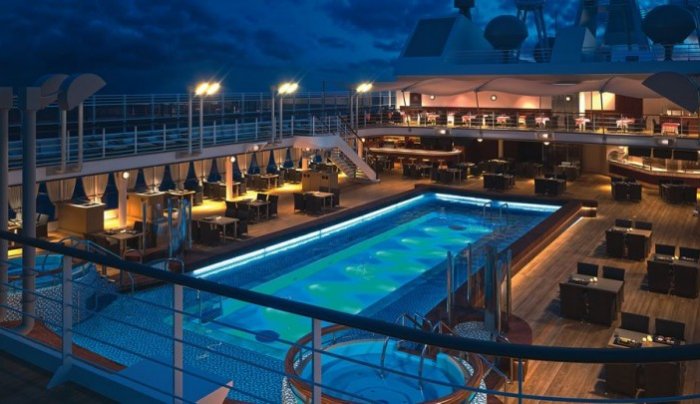 The epitome of open air living — defining how you enjoy the outdoors, this is the place to cool off, unwind and enjoy the sunshine. Take a dip in the pool, relax in one of the whirlpools or simply soak up the view from one of the sunbeds, while your pool attendant anticipates your every whim. A little more ice? Certainly. A plush towel to dry off with? Of course. With breathtaking landmarks gliding by, dive into the clear waters in a setting that is so idyllic that you will not want to disembark.
FITNESS CENTRE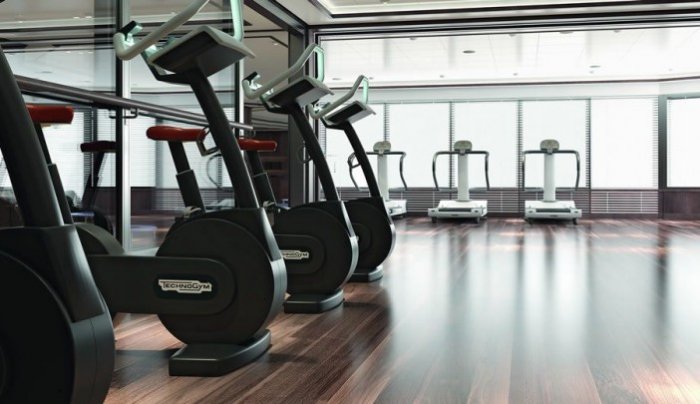 With state of the art Technogym® equipment, free weights and speciality classes, the Fitness Centre brings together elite design with programs that are specifically created for your body type and needs. With personal trainers available for individual sessions, training here is more a five-star experience for all levels of fitness and experience. And with the best view that you'll ever get whilst working out, there are definitely no more excuses …
PANAROMA LOUNGE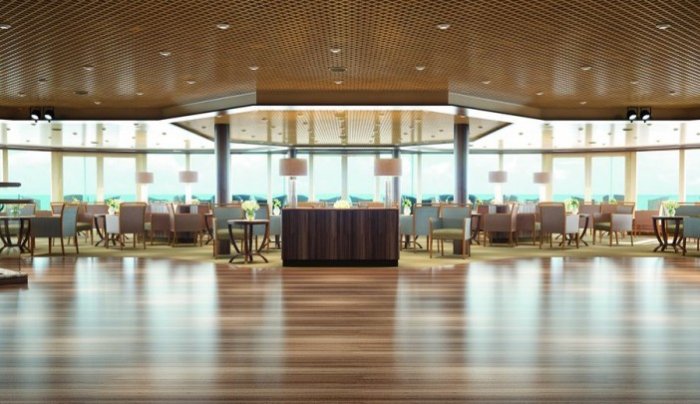 From early morning to late at night, the Panorama lounge offers everything you could wish for. A peaceful retreat that is the perfect place to break away to, a social place to meet and greet old friends, or an evening venue to partake in a cocktail as you sit back and watch the world go by. Sink into the plush seats and come evening, enjoy listening to the gentle sounds of a pianist, or the invigorating beats of our in-house DJ.
L'OPERA THEATRE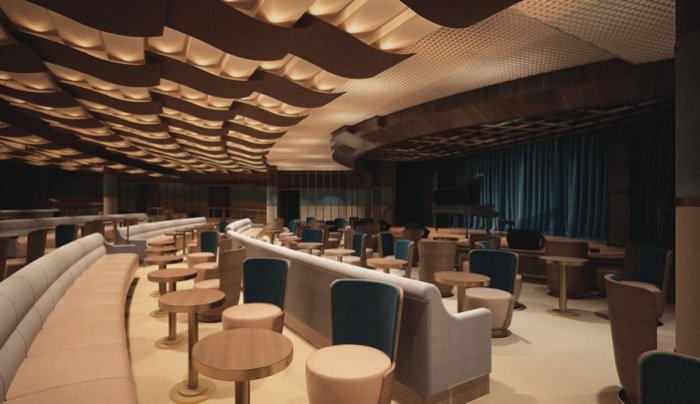 The grandeur and magic of music and theatre. The experience of being transported by performance. That satisfying feeling of seeing an evening show … Welcome to L'Opera, a place where the arts of theatre and music meet with full-scale productions and feature films. Paying tribute to a golden age of glamour, L'Opera offers belle-époque style cabaret seating, with intimate tables and chairs subtly placed between the rows of comfortable tiered banquettes. As the stage lights are dimmed, soak up the atmosphere, relax and enjoy a night of dazzling sights and sounds.
OBSERVATION LOUNGE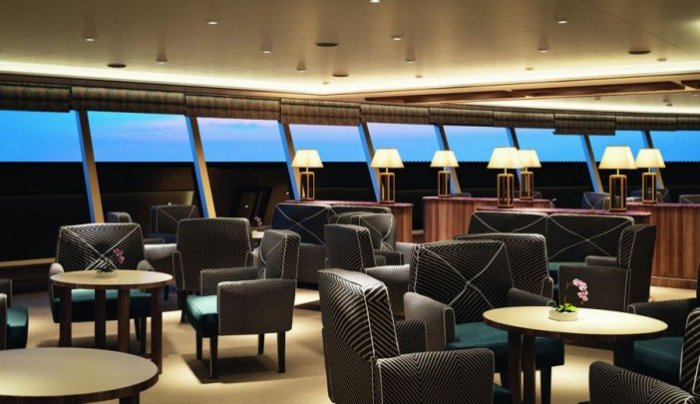 The eponymous lounge carries its name well. Set on the highest level at the very top of the ship, this is a quiet space for reading and reflection while being dazzled by the undulating seascapes that are constituent to life on board. Borrow a book from the in-house library, read the papers or just embrace the tranquillity of being at sea.
DOLCE VITA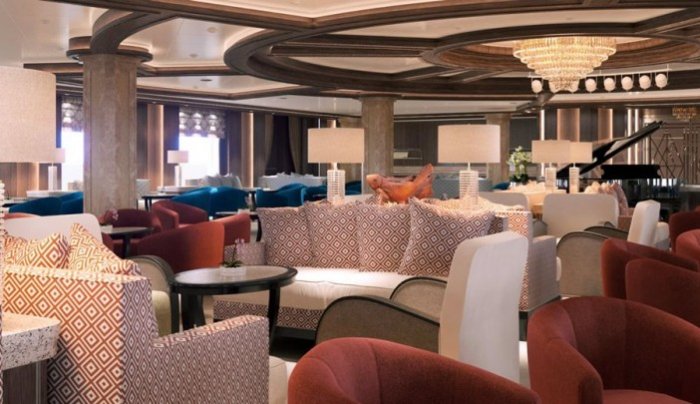 What could be a more fitting name for the very heart of Silver Muse? Central to the soul and inspiration behind Silversea's Italian heritage, Dolce Vita is the gathering place for our savvy travellers of the world, a place where guests mingle and exchange stories and where new faces become lifelong friends. Let us spoil you with an incredible array of flawless cocktails, wines and spirits, as you relax, enjoy the evening sounds of a live pianist and enjoy "the sweet life" aboard.
CONNOISSEUR CORNER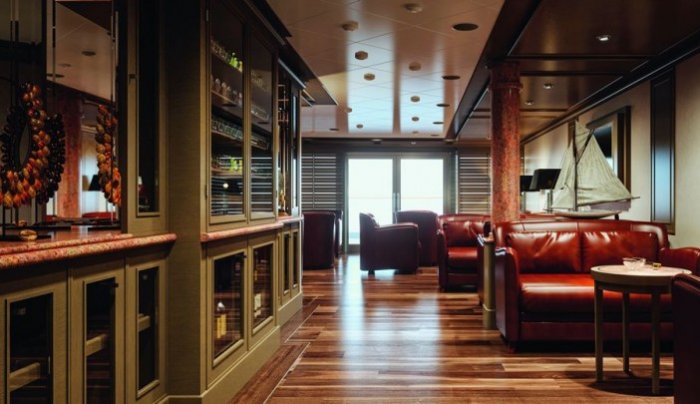 Discreet. Tasteful. Polished. If you appreciate the finer things in life, then the sophisticated touches of Connoisseur's Corner will not disappoint. Rich and luxurious, yet airy and spacious, this indoor/outdoor venue is where you sip the finest cognac or whisky from a prestigious range and revel in the tranquil murmur of after-dinner conversation. A premium choice of cigars is also available, making this a perfect evening haven of serenity.
SPA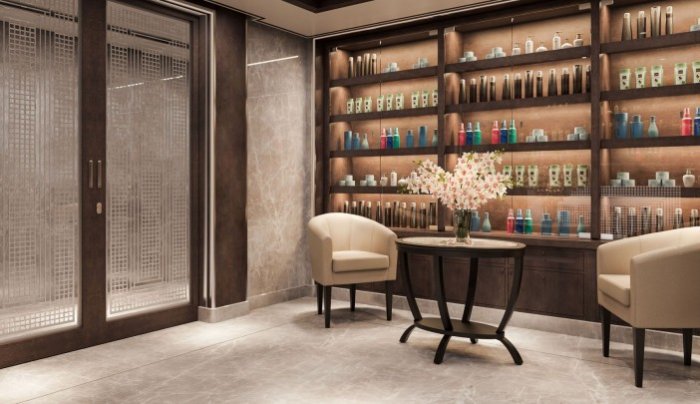 Relax, rejuvenate and renew all your senses. The Spa by Silversea is a sanctuary of pure bliss… Sweeping sea views from the floor-to-ceiling windows, nine treatment rooms, an acupuncture suite, relaxation areas and a dedicated outdoor whirlpool allow delectable indulgence on board. Invigorating therapies including facials, body wraps and massages, plus men's and women's saunas and steam rooms are perfect for relaxing before your spa treatment or after your workout.