Departs From
Reykjavík, Iceland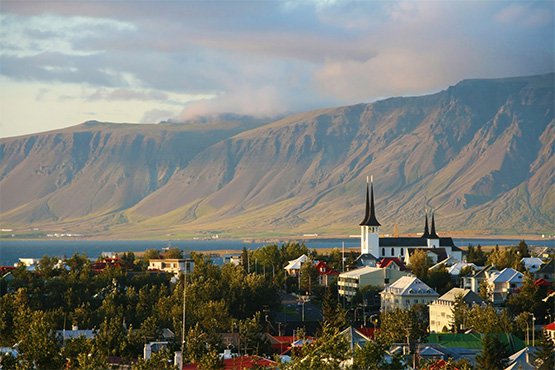 The journey begins
Location: Reykjavík, Iceland
Welcome to Reykjavík, the capital of Iceland and starting point of our expedition. After arriving via scheduled commercial flight service, you are free to explore this fascinating city. Reykjavík is home to a wealth of cultural institutions including museums, galleries, and the Hallgrímskirkja church. Leisure possibilities inside the city include parks, gardens, and thermal baths. You can also take advantage of Reykjavík's wide range of shopping possibilities, excellent dining options, and famous nightlife. Your hotel for the night has been arranged by us and is included in the price of the voyage.
Explore
Location: Embarkation in Reykjavík
In the afternoon, we welcome you aboard the luxury expedition ship M/V Sea Spirit. Explore the ship and get comfortable in your home away from home for the extraordinary adventure to come. Savor the anticipation of your Arctic dreams coming true as we slip our moorings and sail out of the harbor.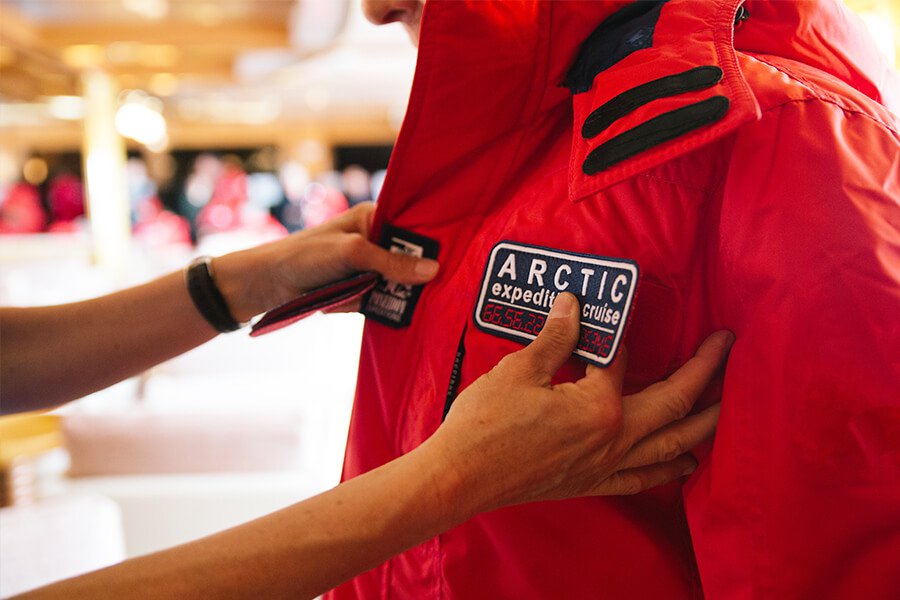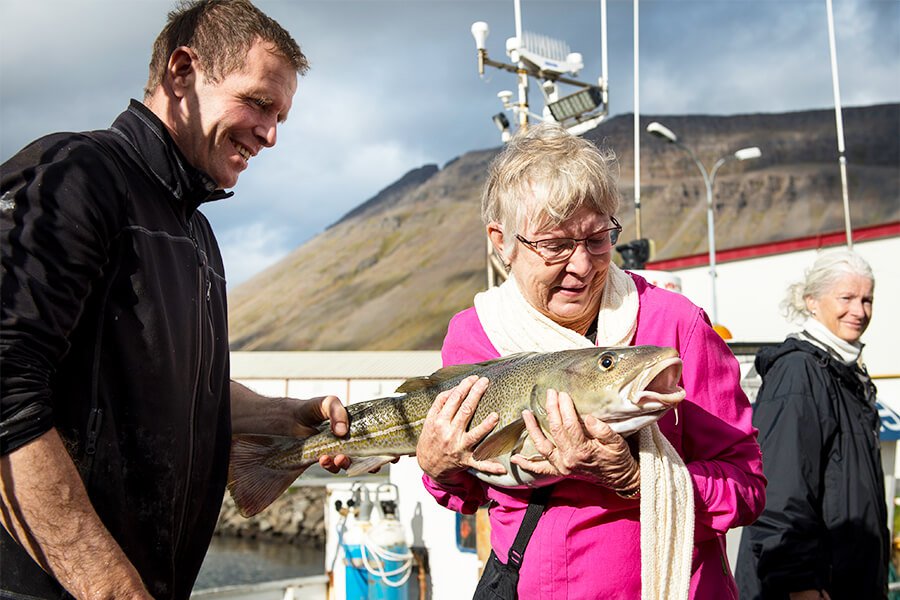 Explore
Location:Westfjords, Iceland
Our expedition day in the Westfjords area reveals the rare beauty of the part of Iceland where mass tourism disappears – only about 10% of Iceland's visitors ever see the region. Taking advantage of every weather favorable condition, we choose the best places to discover breathtaking coastal fjords, jagged bird cliffs, and tiny fishing villages embracing traditional ways of life.
Explore
Location: Grimsey Island, Iceland
The tiny island of Grimsey lies exactly on the Arctic Circle. Grimsey is remarkable for majestic basalt rocks and bird colonies where one can see the Atlantic puffins, known also as the "clowns of the sea".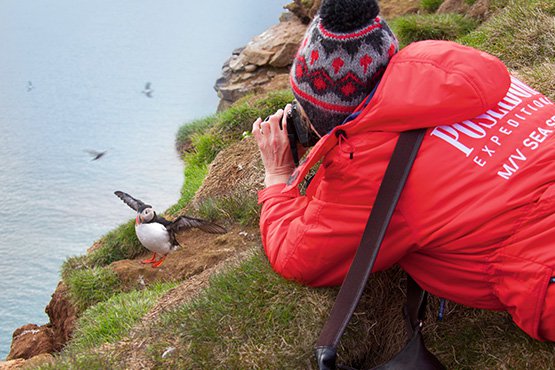 Explore
Location: Jan Mayen Island
Jan Mayen hosts the landscapes of breathtaking beauty and northernmost subaerial active volcano on the planet – the Beerenberg. The island is wild and uninhabited not including members of Norwegian weather station. The signboard at the entrance door says (translated from the Norwegian): "Theory is when you understand everything but nothing works. Practice is when everything works but nobody understands why. On this station, we combine theory and practice in a way that nothing works and nobody understands why". Northern fulmars, Kittiwakes, and Brünich's guillemots breeding on steep cliffs and slopes represent the birdlife of Jan Mayen.
Explore
Location: At sea
The lectures of our invited speakers prepare us for meeting with the unique Arctic wildlife and awesome landscapes of Spitsbergen.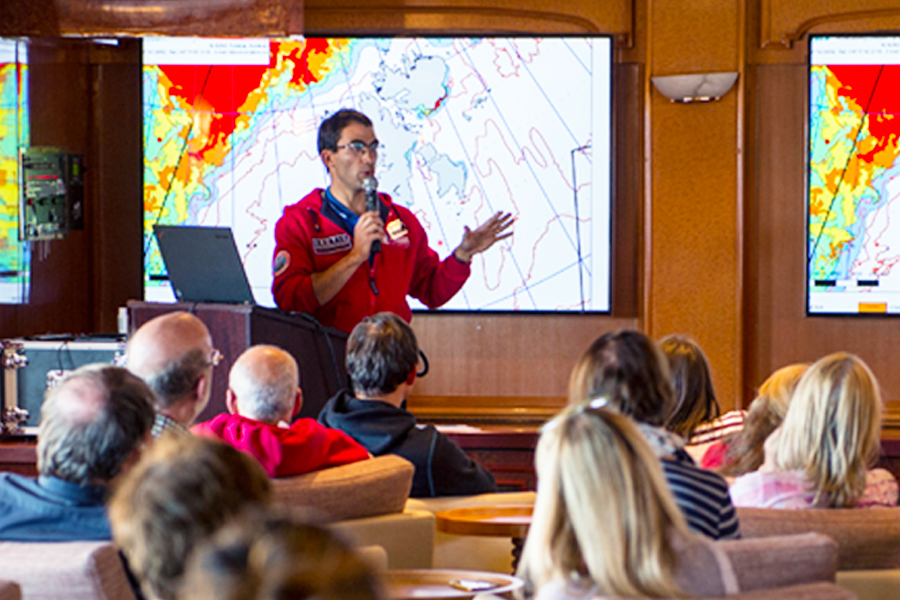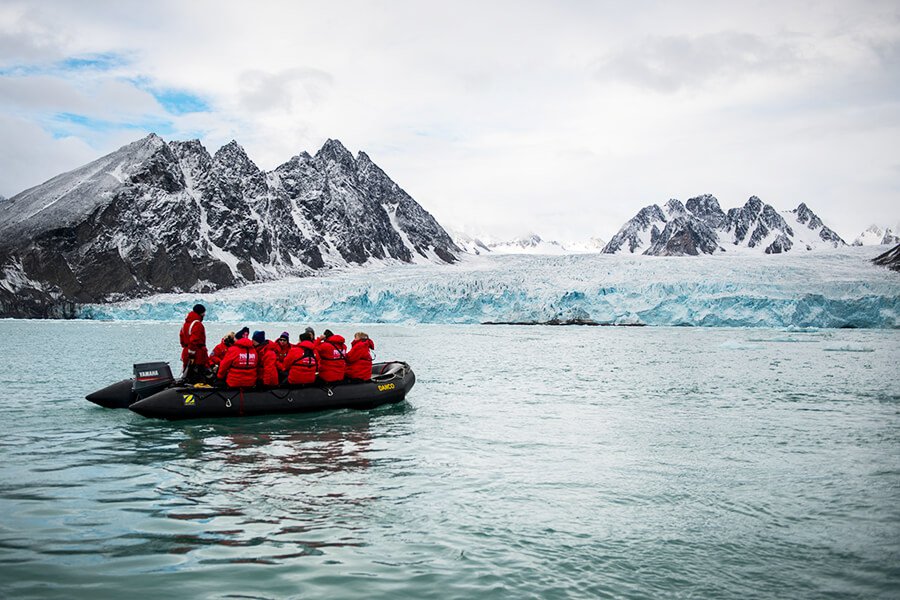 Explore
Location: Exploring Spitsbergen.
This is a real expedition in a true High Arctic wilderness. As such, our route and exploration opportunities here are heavily dependent on the weather and sea ice conditions we encounter. Our experienced captain and expedition leader decide the itinerary and continually adjust plans as conditions and opportunities warrant. You can be sure that the best possible advantage will be taken of the circumstances presented to us by Nature in this wild and remote corner of the Arctic.
Polar bears and other quintessential Arctic wildlife can be spotted anytime, anywhere in and around Svalbard. We exploit every opportunity to experience excellent wildlife viewing, to discover incredible scenery, and to walk in the footsteps of the historic polar expeditions that came before us.
We anticipate exploring the spectacular fjords, coasts, and islands in the western part of Svalbard. This area contains the archipelago's most impressive scenery and some of the Arctic's best wildlife viewing opportunities. Deep fjords and narrow channels are flanked by jagged snowy mountain peaks. Immense tidewater glaciers calve icebergs into turquoise waters. Fields of flowering tundra are home to grazing reindeer and playful Arctic fox. Bountiful inshore and offshore waters are home to walrus and a wide variety of whales. The whole area is alive with migratory birds, including numerous rare species, taking advantage of summer's fecundity in 24-hour daylight.
To complete the Arctic experience we also explore places rich with history. Our area of exploration contains the historical remnants of whaling camps, coal mining operations, trappers' cabins, staging areas for historic attempts to discover the North Pole, and even an abandoned polar research station.
Human habitation in this area can be found only at Ny Ålesund, a former mining town that is now home to an international community of Arctic researchers. This is one of the world's most northerly settlements, complete with museum, gift shop, and post office.
The days are filled with memorable excursions, sumptuous meals, presentations by our experts, and enough stunning scenery and wildlife to fill your camera and overwhelm your emotions.
Explore
Location: Disembarkation in Longyearbyen, Spitsbergen.
After breakfast we say farewell in the town of Longyearbyen, the administrative capital of the Norwegian territory of Svalbard. We provide a transfer to the airport or to the town center if you wish to spend more time here. In this case, be sure to see the excellent Svalbard Museum and take advantage of quality shopping and dining opportunities in this fascinating Arctic settlement.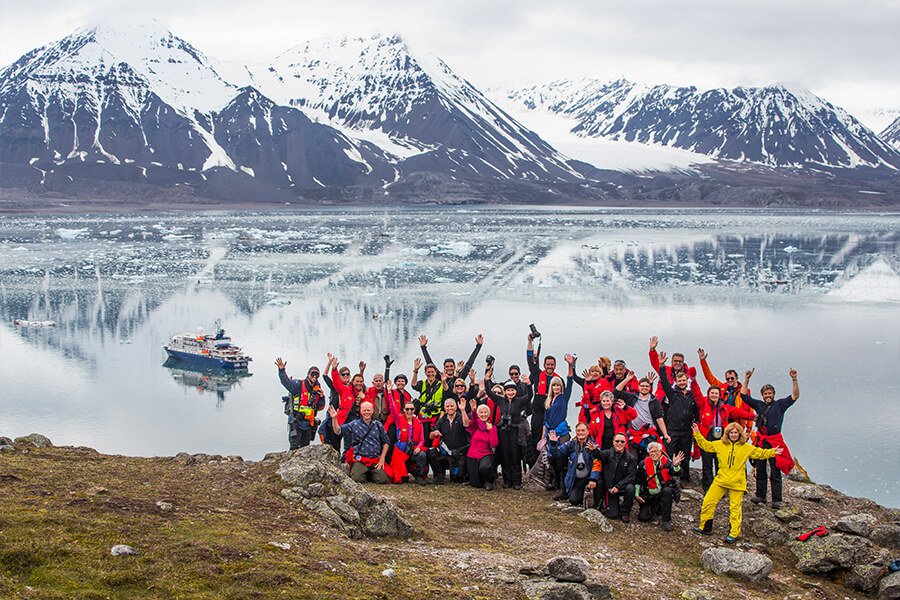 Location
Longyearbyen, Spitsbergen
Triple Classic
16 Jun - 28 Jun 2018 :
$ 6,395.00
Size :21 M² (226 FT²)
View :Picture Window
Beds :2 twins and comfortable sofa bed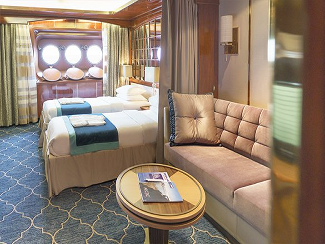 Main Deck suite
16 Jun - 28 Jun 2018 :
$ 8,895.00
Size : 23 M² (248 FT²)
View :PORTHOLES
Beds :2 twins orKing Size bed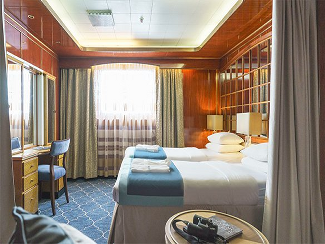 Classic Suite
16 Jun - 28 Jun 2018 :
$ 9,495.00
Size :21 M² (226 FT²)
View :Picture Window
Beds :2 twins or King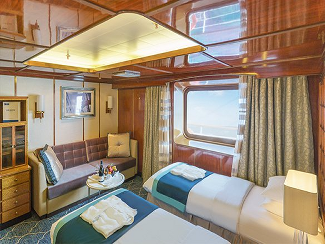 Superior suite
16 Jun - 28 Jun 2018 :
$ 9,695.00
Size :20 M² (215 FT²)
View :Picture Window overlooks on outside pathway
Beds :2 twins or King
Deck :Club Deck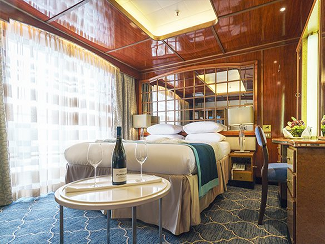 Deluxe Suite
16 Jun - 28 Jun 2018 :
$ 10,895.00
Size :24 M² (258 FT²)
View :Private Balcony
Beds :2 twins or King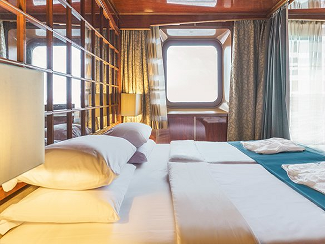 Premium Suite
16 Jun - 28 Jun 2018 :
$ 11,895.00
Size :30 M² (323 FT²)
View :Private Balcony
Beds :2 twins or King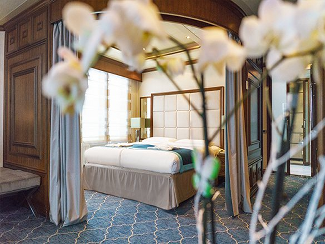 Owner's Suite
16 Jun - 28 Jun 2018 :
$ 15,795.00
Size :43 M² (463 FT²)
View :Private deck
Beds :King and Sofa bed
Included
1 pre -voyage Hotel Night;
Group transfer to the ship on day of embarkation;
Group transfer to airport or central location upon disembarkation;
Shipboard accommodation;
All scheduled landings/excursions (subject to weather and ice conditions);
Leadership throughout the voyage by our experienced Expedition Leader & Expedition Team;
All meals on board throughout the voyage;
Tea and coffee station 24 hours daily;
Branded Poseidon Expeditions Parka;
Rubber boots for shore landings for the time of the cruise;
Welcome and Farewell cocktails;
All port fees;
Pre-departure materials;
Digital Voyage Log;
Emergency Evacuation Insurance to a maximum benefit of US 150,000 per person.
Not Included
Airfare;
Visa and passport fees (if applicable);
Luggage and trip cancellation insurance;
Soft drinks and alcoholic beverages other than those for special events and celebrations;
Personal expenses such as laundry and telecommunication charges;
Staff gratuities.
How to pack for polar Climate
Our recommendation is to bring "arctic quality" clothes that will fit into a layered clothing scheme. For example, packing "arctic quality", light-weight long-sleeve t-shirts, turtlenecks, and a water-proof shell is better than packing five big, cotton sweaters and two huge "winter-down" coats. Three to five pairs of active-wear pants, and then a pair of waterproof pants such as ski or snowboard pants, which is designed to respond to temperatures variations, is much better than seven pairs of jeans. Keep in mind that you may experience anything from t-shirt weather to artic, sub-zero snow-squalls (if you are lucky), so, each day's temperature might change quickly without any time for you to change your clothes – layers are essential. Of course, your dinner clothes are your decision. Please read the following article designed to give you an understanding of how to dress. The tips and Packing List, below, will act as a guide in the packing process.
Why being layered is so important? Temperatures may be warmer in the day than you expect, which will cause you to sweat. Your sweat will make for a cold feeling and once you get wet, your body will lose its natural temperature at a higher rate than before. If you are dressed appropriately, you can remove a light-weight layer and carry it with you. Second, your body works hard due the climate. The cold weather, snow, and natural adjustment of your body require a significant output of physical energy other than just walking. You will want to be able to take off and put on layers as needed. It can't be stated enough here; layers are the key to comfort in a Polar climate.
Being waterproof is also essential. Although summer temperatures are generally mild, you should expect wind, clouds, and precipitation. It is also possible that water will spray up on passengers during Zodiac cruising. We can say with certainty that if your clothes are not waterproof on the outer layer, you will get cold. In this regard, we recommend being mindful of having waterproof shoes as well. Trust us, having a water-proofed outer layer can make or break your travel experience.
Beware of tight clothing that doesn't let your body "breathe". Part of being insulated is a system of letting the natural warm air of your body counteract the cold air you encounter. If your clothes are too tight, and don't allow for insulation, you can get cold easily. Also, remember that cotton isn't really an insulator. So, we recommend more modern artic designed clothing.
Finally, remember the "wind-chill factor" and plan accordingly. A stiff wind on a polar plain can sweep away any generated body heat in a second, and it's important that your clothes are windproof. A good, warm wind-proofed shell will keep your chill to a minimum, so make sure any shell you bring is insulated, water- and windproof.
The following tips will help you be comfortable in cold weather
Avoid overdressing and reduce perspiration.
Wear water repellent outer layers that will keep you dry on the outside and still able to "breathe" enough that moisture from your body can escape.
Body heat is most likely to be lost from hands and feet. Keep them warm and dry.
Mittens are better than gloves.
If the rest of your body is covered, as much as 90% of the heat you lose will come from your head; be sure to wear a cap.
Dress in comfortable, loose layers. It is far better to wear layers of relatively light, loose clothing than one thick, heavy item. Between each layer there is insular air that, when heated by your body, acts as a natural insulator. It will also allow you to keep from overheating.
Modern "arctic design" clothing is best – Polar fleece is a good example. Also, wool and silk are superior to cotton because they trap warm air. When damp or wet, polyester is a better insulator than goose or duck down.
Packing List
Parka (usually provided by Operator)
You should look for a lightweight, wind and weather-resistant shell with insulation. Bright colors are more visible, and safer in polar environments. Traditionally, Polar travelers wear red.
Warm Trousers
Ski pants are suitable if you have them. Otherwise, bring any sturdy trousers that can be layered between your long underwear and rain over-trousers
А pair of water-resistant "rain-pants" made of coated nylon are essential. These are worn like shell for your legs. Look for Gore-Tex and other synthetic fabrics that are waterproof and "breathable". These materials keep out wind and water without trapping excess heat. This is probably the most important clothing you can pack for a trip.
Waterproof Pants (Trousers)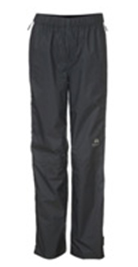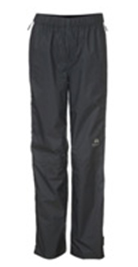 You should select medium to thick thermal underwear; long sleeve thermal top, trousers and socks. Most people prefer a ightweight version – but this depends on your personal thermostat. Polypropylene fibres are warmer when damp or wet, than silk or wool, although the CSIRO has recently developed a fine wool product called Sportwool.
Thermal Underwear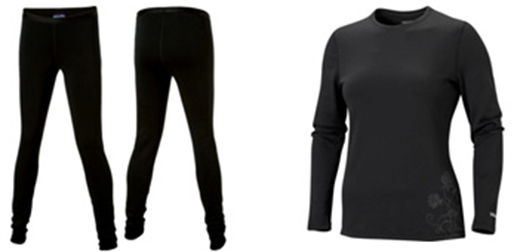 Wool sweaters or a polar fleece jacket of medium weight are recommended.
Sweaters or polar fleece jacket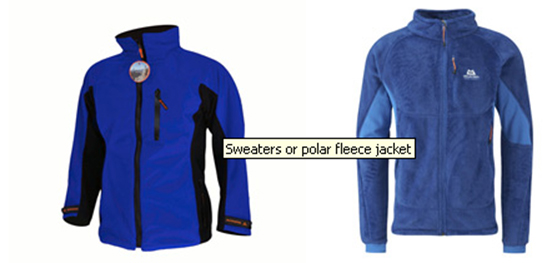 Turtlenecks or t-shirts
Bring several practical turtlenecks or t-shirts for layering and use around the ship.
Mittens and under-gloves
Keeping your hands warm and dry is an important challenge. Thin polypropylene gloves should be worn underneath warm mittens so you can take off your mittens to operate your camera and maintain some level of protection against the cold. These should be loose enough to permit good blood circulation. It's a good idea to bring an extra pair of wool mittens to wear if your other pair gets wet or lost.f
Woolen Cap or fleece cap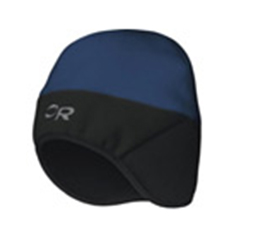 A warm cap to protect your ears.
Scarf
A warm scarf can help you to protect your neck
Warm Socks
Sturdy, tall wool (or other thick material) socks should be worn over a thin pair of silk, polypropylene or cotton/wool socks which provide enough insulation for your feet. Bring several pairs of outer socks, as your feet will inevitably get wet.
Insoles for gumboots
They will keep your feet warmer when sitting in the Zodiac for long periods.
Rubber Boots (usually provided by Operator, please check at the time of booking)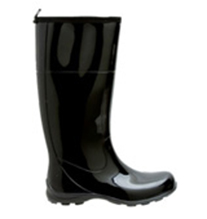 A pair of pull-on rubber, unlined and completely waterproof boots that are mid calf or higher (12-16", 31-41 cm high) with a strong, ridged non-skid sole is essential for landings. You may have to step from the Zodiac into icy water up to 10" (25 cm) high on some landings. Also, expect poor footing on the ice and ashore. Do not bring heavy, cumbersome boots that make it difficult to walk. Boots with waffle soles like those on a hiking boot or running shoe tend to give the best footing. Ideal boots are «Wellies» or «Viking» boots. Remember that you will be wearing these boots a lot. So they must be comfortable for extended wear and walking. The boots should not be too tight or too sloppy. If they are too tight you will get cold feet.
For maximum warmth, wear loose-fitting boots and two pairs of socks. Try out your boots before the voyage.
Ship Attire
Dress on the ship is informal. Clothing on board is usually jeans, corduroys, casual slacks or trousers, long sleeve shirts or t-shirts, fleece and a parka in hand during the day. Lightweight walking shoes/boots are comfortable and some people like to take them ashore.
Backpack
A waterproof nylon backpack, rucksack, or similar bag for carrying your camera and other gear. Make sure your primary shore-landing bag has shoulder straps so that your hands are free, when boarding the Zodiac. It is very important that you have some way to keep your camera dry, particularly while you are on the Zodiacs.
Sunglasses
High quality sunglasses with U.V. filter are recommended even on cloudy days, as the U.V. reflects powerfully, even when you don't expect it. We do not require "glacier glasses"; your normal sunglasses will suffice, but polarized sunglasses are most effective. Tinted ski/snowboard goggles are also be useful if conditions are windy, snowy, etc.
Sun-block lotion
Protective sun-block lotion for your lips, hands and face. The reflected glare from water, snow and ice can be intense and will burn the skin of passengers in certain conditions. In any regard, it is highly recommended.
Camera
Camera, battery charger. It is advisable to bring an extra camera in case of malfunction or accident.
Extra pair of prescription glasses
Those who wear contact lenses should also bring glasses because salt and wind can irritate the eyes.
Bathing suit
For hotels, aboard some ships and (just maybe) a polar plunge.
Medicines
Prescription medicines and other remedies such as seasickness medication. Be prepared for rough water – also, please bring a signed and dated letter from your physician stating any health problems and dosage of medications, for emergency use.
Binoculars
A pair of binoculars for spotting whales and seabirds from deck is highly recommended.
Plastic bags
Zip lock plastic bags for your camera.
Earplugs
Earplugs may be useful if you are sharing a cabin with a snorer.
Dressing for Gateway Cities
Don't forget this important aspect of your trip – your personal style is our best advice.
What weather conditions can I expect?
Weather conditions are generally mild, with temperatures near freezing point. However, the continuous sunlight of 18 - 24 hour days adjusts your thermal temperature to the cold air. Passengers have been known to safely experience 't-shirt' conditions. At the same time, you may encounter fog, white-outs, and other adverse weather conditions
What weather conditions can I expect?
Weather conditions are generally mild, with temperatures near freezing point. However, the continuous sunlight of 18 - 24 hour days adjusts your thermal temperature to the cold air. Passengers have been known to safely experience 't-shirt' conditions. At the same time, you may encounter fog, white-outs, and other adverse weather conditions.
Will I be seasick?
Antarctica - Everyone reacts differently to the occasional, rough water of the Drake Passage. Passengers should consult their personal physician prior to travel and carry the recommended preventative medications at all times. That said, not all Drake Passage crossings are tumultuous.
The Arctic – While we are navigating between the Arctic islands we may get into rough seas. But once sheltered by islands in icebound waters, you won't feel any ocean swell or heavy seas.
I travel alone. Can I avoid single supplement?
Solo travelers discover that every voyage welcomes passengers observing Polar Regions as a personal experience. Solo travelers who want to have a cabin to themselves pay a single supplement. Others must apply to our Request-Share program.
The Request-Share program matches solo travelers of the same gender who are willing to share a cabin space. Both guests save money by not paying the single supplement fee. Should we be unable to find a cabin-mate for a Request-Share traveler, the single supplement is waived.
What are the major expenses not included in programme rates?
Air flights to the starting/finishing points of our cruises are not included. We do arrange flights for travelers seeking comprehensive planning.
All passengers must have comprehensive travel insurance coverage with a minimum EURO 100,000 (North Pole) and $150,000 (Antarctica) emergency medical coverage. The insurance IS included in the North Pole travel package and is NOT included in the Antarctic travel package
Some passengers need to purchase additional outdoor clothing in advance of the trip. This is an essential part of the planning process. We include the official Poseidon Expeditions parka in the cost of your expedition (please check at the time of booking) and provide water-proof boots as needed. Please be sure to review the packing list provided to you by our staff and adhere to the guidelines.
If you are pleased with the crew's service, gratuities / 'tips' can be made in cash or charged to your on-board account and are ALWAYS at your discretion. We recommend that you budget 12 USD per person, per day on Antarctic cruises and 22 EURO per person, per day on North Pole. Gratuities are collected anonymously AT THE END of each voyage and are distributed among staff and crew at that time.
May I extend my stay in the embarkation/disembarkation city?
Yes. We offer a variety of travel packages designed to maximize the potential of your travel time.
When is disembarkation?
Leaving the ship requires certain formalities; such as a Customs Inspection. We generally begin disembarkation after breakfast on the final day. This is followed by a group shuttle to the nearest airport.
We strongly recommend that homeward bound flights be booked for departure AFTER 12:00 (pm) (noon) on the final day. We cannot guarantee your arrival to the airport until the afternoon.
All North Pole travel packages include a post-cruise, airline ticket to Helsinki along with one night hotel accommodations in Helsinki.
Will I have opportunities to explore ashore during polar expedition cruises?
Yes, of course. Each ship is equipped with motor powered and paddled, inflatable landing crafts known as 'Zodiacs'. These easy to navigate boats are used for ocean level cruising and landings. From there, you will hike tundra and ice fields.
We fully understand the popularity of shore activities and provide them as frequently as possible. Of course, seasons and weather may determine where you go ashore and how often. Please work with our sales staff to ensure your satisfaction. We strive to create an experience that best suits your lifestyle and needs.
Is there a doctor on the ship?
Our Expedition Team always includes a doctor who is responsible for the health of our passengers and Expedition Team. Also, each ship has a clinic area equipped to handle foreseeable emergencies.
Can I get medications on the ship?
It is extremely important that you bring any prescribed medicines with you. While we do carry emergency supplies of common medications, we cannot access the kinds of information necessary to guarantee a surplus of the necessary medicine for all travelers on a given cruise.
Please plan for the entirety of your travel time – not just your time on the cruise.
Do I need to pack formal clothing?
There is NO requirement of formal dress at any point. If you choose, there will be welcome and farewell cocktail parties and daily dinners well suited to a dress shirt and casual slacks, or the equivalent for women.
What is there to do on the ship?
Our voyages include education supplements to prepare you for shore landings and scientific discovery. After that, other than meals, informal activities range from bird and whale watching to movies and snacks in the evening. There are board games available in the lounge area and a bar for conversation and spirits.
The open-air decks make excellent platforms for photography and wildlife observing.
What is the average age of the people traveling on your ships?
The ages of our travelers range from 20 to 80, with the majority between 45 and 65 years.
Should I be physically fit to travel to polar regions?
You should strongly consider not joining the expedition if you are suffering from any life threatening condition or require walking assistance. The polar regions are a remote area with zero access to full-scale medical facilities and daily routines include steep gangways and terrain mobility. Note that we do provide a range of activities when ashore.
How much luggage can I bring?
It's always best to pack 'for' the segment of your flight itinerary that has the smallest baggage allowance requirement - baggage allowances on international flights are often larger than domestic flights. Also, be sure to check with your airline to confirm what you are allowed to carry.
The ship does have laundry facilities, so you do not need to pack clothes for every day. Our advice is to be reasonable.
Do you have any advice on ensuring a best possible encounter with penguins?
Yes, there is good advice for making sure you have a perfect penguin encounter.
Penguins are curious. Pick a spot no closer than 5 meters from the penguins. Sit or kneel - making yourself smaller and less threatening. Wait quietly, with your camera ready - they will be much more open to coming over to you than vice versa. Otherwise, you would scare them away.